An early wake up call at 7am this morning further reminded me that I was in a different place and that I would have to get use to a different lifestyle. One which involved finally working the job and building the lifestyle that I want. It was wet and stormy today so reminded me of Ireland, but yet it didn't dampen the spirits within our company. We have a huge launch to look forward to on Monday and that is all we worked towards today.
Lucky for me the office here is located in the house where I am staying. Our house come office resembles that of the Californian house rented by Facebook CEO Mark Zuggerbergs to house his programming sessions in the film "The social network" when he started building "the facebook" as it was called back then. If our developments earn even a percentage of what his did we will be happy
…. Our office is full with computer screens and white boreds full of information that only nerds could understand. Today we were writing press releases, recording webinars (multiple times ) and getting the final programming finished in order to be ready for Monday.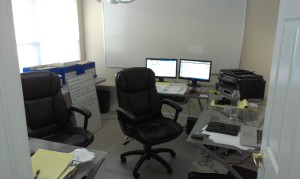 What better way to begin launching Internet Marketing projects and building new software than to be doing it in a lay back atmosphere in a house come office where you are free to roam and work at your own pace. Although we give ourselves deadlines we can get the work done at a steady pace. Not to mention plenty of beer, music and KFC!
Things are looking good and more news to come soon!